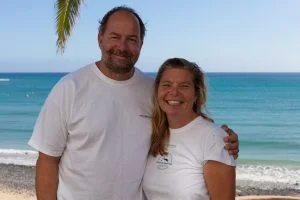 The Canary Islands are well known for their amazing weather all around the year. This allows us to have almost to perfect diving conditions all year long. From water temperatures ranging from 18ºC in the Winter to 24ºC in the Summer, good underwater visibility to up to 30m, calm surface waters, abundant underwater life (including Angel Sharks in the Winter) and sunny weather all year long, Fuerteventura is the perfect destination for your next holidays. 
Either if you are already a diver, if you want to try it out as a holiday experience or if you want to become a certied diver, this is the place to be. 
Dive or learn to dive with us in a family atmosphere. 
We hope to make your time here a little better and discover the underwater world with you!
Best regards
Olivia, Bernd and dive team 
In Acuarios Dive Center we work with two of the most worldwide known organizations in the diving ceritification industry, SSI and PADI. 
We are a qualified center to certify you starting with your Scuba Diver (most basic license) up until your Dive Master. Both institutions will be recognized wherever you go, you just have to choose your favorite one. If you want to learn more about them, click in the link below.
SSI
Scan this code and get for free the first three chapters of your open water available in 35 languages, and a free logbook.
PADI
One of The world's most popular and widely recognized scuba organizations with both learning methods: books or e-learning, depending on your own preferences!
Fuerteventura may not have hundreds of dive sites, but it does have a very rich underwater world, ranging from little creatures like parrot fish, up to big fish like  groupers, stingrays, barracudas, angel sharks, moray eels, amongst others. 
If you want to learn more about our dive spots, click in the link below. 
The dive center Acuarios  was opened in 1988 in the Sotavento Beach Club in  Costa Calma and is managed since January 2000 by Olivia Buschmann and Bernd Lehmann, who are still active in the dive center, still teaching and going in the water.  
Starting 2023, we acquired a new dive center which is located in the SBH Costa Calma Beach Hotel, which is actually only two hotels away from the Sotavento Beach Club. Like this, we plan to grow together with our current staff members – Antonio, Lars and Christian. Together with all the staff we can offer you courses in German, English and Spanish as well. As a team we guarantee a great time on the surface as well as under water. 
We offer two dives a day, which are mostly approached from land but also  reachable by boat. To increase the variety in our dive spots, from time to time we arrange day trips to other parts of the island to discover other landscapes. Make sure you don't miss out on a lifefull night dive… you would be surprised how much the behaviour from the fauna changes when the sun goes down!
As mentioned before, the training we offer is according to SSI and PADI guidelines and the center is listed as legal by the Canary Islands government, which means that it has been inspected by the relevant authorities.
If you have further questions, don't hesitate to contact us to the number at the end of this page or to write us an e-mail with all your inquiries.